Book Club at Resurrection Lutheran Church
Do you love reading books? Do you love reading books with a group of people? Are you looking for people to discuss literature with? Many love to read books, but it can be hard to find someone to discuss the book with after you're done reading it. If you are interested in meeting other people to discuss the books you read, you should consider joining the book club at Resurrection. Here you will find great opportunities to meet new people and make new friends.
Membership
Membership is open to all who love reading books and making time to share their understanding with others. The book club at Resurrection Lutheran Church consists of a number of great minds who read and talk about books based on a topic or an agreed-upon reading list. We choose a specific book to read and discuss each month. The club is focused on reading books that enrich the hearts and lives of its members.
If you feel like being part of a book club with an atmosphere of love and mutual influence is something of interest to you, please join us. You can contact Ruth Wolter for information as to how to become a member.
Meeting Time and Venue
The Book Club will meet on Thursday April 21, 6:30 pm, at the church with Elyse Tillman as discussion leader. Her book choice is "Meet Me At The Museum" by Anne Youngson and is available at the library.
Summary: In Denmark, Professor Anders Larsen, an urbane man of facts, has lost his wife and his hopes for the future. On an isolated English farm, Tina Hopgood is trapped in a life she doesn't remember choosing. Both believe their love stories are over. Brought together by a shared fascination with the Tollund Man, subject of Seamus Heaney's famous poem, they begin writing letters to one another. And from their vastly different worlds, they find they have more in common than they could have imagined.
Contact Ruth Wolter at 618-433-1469 with questions or to join.
Past Books
April's Meeting Info
Date: Thursday, June 16
Time: 6:30 p.m.
Discussion Leader: Teresa Droste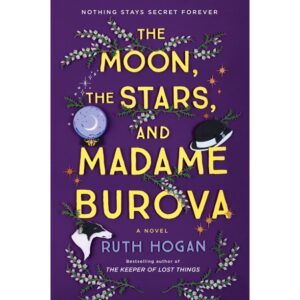 Summary:   After a lifetime of keeping other people's secrets, fortune teller Madam Burova, before she can have a little piece of life for herself, must fulfill a promise made in the 1970s, when she and her girlfriends were carefree, with their whole lives still before them. — Brighton. After inheriting her mother's fortune-telling business as a young woman, Imelda Burova has spent her life on the Brighton pier practicing her trade. After a lifetime of keeping other people's secrets, Madam Burova is ready to have a little piece of life for herself. But she still has one last thing to do: fulfill a promise made in the 1970s, when she and her girlfriends were carefree, with their whole lives still before them. In London, Billie has lost her university job, her marriage, and her place in the world when a sudden and unlikely discovery leaves her very identity in question. Determined to find answers, she must follow a trail which leads to Brighton, the pier, and directly to Madame Burova's door. — adapted from jacket