Book Club at Resurrection Lutheran Church
Do you love reading books? Do you love reading books with a group of people? Are you looking for people to discuss literature with? Many love to read books, but it can be hard to find someone to discuss the book with after you're done reading it. If you are interested in meeting other people to discuss the books you read, you should consider joining the book club at Resurrection. Here you will find great opportunities to meet new people and make new friends.
Membership
Membership is open to all who love reading books and making time to share their understanding with others. The book club at Resurrection Lutheran Church consists of a number of great minds who read and talk about books based on a topic or an agreed-upon reading list. We choose a specific book to read and discuss each month. The club is focused on reading books that enrich the hearts and lives of its members.
If you feel like being part of a book club with an atmosphere of love and mutual influence is something of interest to you, please join us. You can contact Ruth Wolter for information as to how to become a member.
Meeting Time and Venue
The Book Club will meet on Sept. 8, at 6:30 pm at Resurrection.
Past Books
The Book Club will meet on Thursday, Oct. 13, at 6:30 pm at Resurrection.
Summary: "'Few true friends have I known and two were giraffes…' Woodrow Wilson Nickel, age 105, feels his life ebbing away. But when he learns giraffes are going extinct, he finds himself recalling the unforgettable experience he cannot take to his grave. It's 1938. The Great Depression lingers. Hitler is threatening Europe, and world-weary Americans long for wonder. They find it in two giraffes who miraculously survive a hurricane while crossing the Atlantic. What follows is a twelve-day road trip in a custom truck to deliver Southern California's first giraffes to the San Diego Zoo. Inspired by true events, the tale weaves real-life figures with fictional ones, including the world's first female zoo director, a crusty old man with a past, a young female photographer with a secret, and assorted reprobates as spotty as the giraffes. Part adventure, part historical saga, and part coming-of-age love story, West with Giraffes explores what it means to be changed by the grace of animals, the kindness of strangers, the passing of time, and a story told before it's too late"–Publisher.
Thanks,
Ruth Wolter 618-433-1469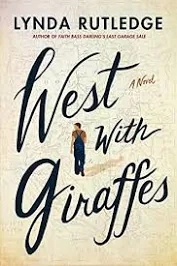 Related Pages (also check the home page)