Book Club at Resurrection Lutheran Church
Do you love reading books? Do you love reading books with a group of people? Are you looking for people to discuss literature with? Many love to read books, but it can be hard to find someone to discuss the book with after you're done reading it. If you are interested in meeting other people to discuss the books you read, you should consider joining the book club at Resurrection. Here you will find great opportunities to meet new people and make new friends.
Membership
Membership is open to all who love reading books and making time to share their understanding with others. The book club at Resurrection Lutheran Church consists of a number of great minds who read and talk about books based on a topic or an agreed-upon reading list. We choose a specific book to read and discuss each month. The club is focused on reading books that enrich the hearts and lives of its members.
If you feel like being part of a book club with an atmosphere of love and mutual influence is something of interest to you, please join us. You can contact Ruth Wolter for information as to how to become a member.
Meeting Time and Venue
The Book Club will meet again in January, date to be determined .
Past Books
Book Club meets on Thursday, February 9th at 6:30 pm at the church. Jean Bradley will be our discussion leader.  Her book choice is The Next Thing You Know by Jessica Strawser.  The book is available thru the library.
About:  As an end-of-life doula, Nova Huston's job―her calling, her purpose, her life―is to help terminally ill people make peace with their impending death. Unlike her business partner, who swears by her system of checklists, free-spirited Nova doesn't shy away from difficult clients: the ones who are heartbreakingly young, or prickly, or desperate for a caregiver or companion.  When Mason Shaylor shows up at her door, Nova doesn't recognize him as the indie-favorite singer-songwriter who recently vanished from the public eye. She knows only what he's told her: That life as he knows it is over. His deteriorating condition makes playing his guitar physically impossible―as far as Mason is concerned, he might as well be dead already.  Except he doesn't know how to say goodbye.  Helping him is Nova's biggest challenge yet. She knows she should keep clients at arm's length. But she and Mason have more in common than anyone could guess… and meeting him might turn out to be the hardest, best thing that's ever happened to them both.
Jessica Strawser's The Next Thing You Know is an emotional, resonant story about the power of human connection, love when you least expect it, hope against the odds, and what it really takes to live life with no regrets
Thanks,
Ruth Wolter 618-433-1469
At this time, we do not have someone committed for March or a book selected. Be sure to watch for updates in the weekly bulletin.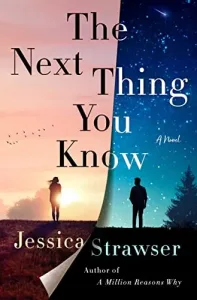 SAVE THE DATE
It's Easy Being Green Spring Event. April 22-23, 2023
Plant Vendors. . . Educational Seminar. . . Resurrection Community Garden Tours. . . Local environmental groups. . . Worship. … And so much more !
Coordination and detailed planning is underway with the Community Garden, Faithful Innovations and Social Ministry Teams assisting.