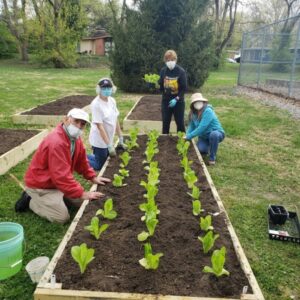 What is a community garden?
The American Community Gardening Association defines a community garden broadly. A community garden can be urban, suburban, or rural. It can grow flowers, vegetables—or community. It can be one community plot or many individual plots. It can be located at a school, hospital, church or in a neighborhood.
Another way of thinking about community gardens are as "community-managed open spaces." These differ from a park or public space where some other entity ultimately decides the purpose of the site and maintains it. Community gardens are where the residents of a community are empowered to design, build, and maintain spaces in the community.
Does this sound like something you would be interested in. If so, the Community Garden Team is holding a planning meeting for our upcoming 2023 Community Garden. All interested parties please plan on attending this meeting December 11th at 8:45 am in Young Hall.
Contact Mark Groh or Rod Margherio for more information on this project.
Adult Bible Study
Sundays at 8:45 am
Ask, Thank, Tell by Charles R. Lane
Discover what Sharing Generously means:
Understanding that all we have and possess is from and because of God and, like our generous God we as faithful followers of God must also be generous with what we have and who we are.
Sharing opens our doors to community and fellowship.
Realizing that Resurrection is the focal point of our faith community and as such needs members support to maintain and enhance our community and our outreach.
November 27 It All Belongs to God
December 4 Money/Possessions in the New Testament
December 11 Portrait of a BiblicalGiver
December 18 Practicing Biblical Stewardship
December 25 No Class – Christmas Worship
January 1 No Class – Name of Jesus – Worship
January 8 Ask: The Annual Response Program
January 15 Improving How You Ask
January 22 Thank
January 29 Tell
February 5 Organizing for Your Stewardship Ministry